Syntela Conferencing is excited to make a product announcement and introduce a first-of-its-kind pricing model that could save you 85% off your current video conferencing spend (see chart below) without losing functionality or number of accounts! We have rebuilt and grown our video conferencing capabilities tremendously over the past 2 years and there is very little differentiation of our core offering from a technology standpoint when compared to Zoom, Webex, etc. Today we are officially Introducing Syntela Buzz into the market.
We have always been a boutique full-service CSP with a belief in white glove customized support and never competed on price, but we are in a new world and pricing models in our industry have not changed in 30 years (1 license fee/month/host account). While our large publicly traded competitors may have similar technologies, we don't believe they can match this new pricing model!
This is a MUST read for organizations using any of the below providers:
Zoom
Zoom Resellers & Look alike' s
Webex
Goto Meeting/Goto Webinar
Adobe Connect
Blue Jeans
Lifesize
Using Zoom as an example, their stock peaked well over $600/share at the peak of the pandemic and is now in the $75/share range. Some analysts are nervous as they think 80% or more of their revenue may be passive revenue which is revenue received for accounts not being used but being paid for or even pre-paid for. Analysts also state, lots of competition with very little to no differentiation in technology. This is a big challenge for publicly traded companies as investors are looking for revenue growth or Average Revenue Per Unit (ARPU) growth. Therefore, we believe they can't match our business model and will outspend us in marketing dollars to get higher prices for their services.
Don't just take our word for it! Hear from Jim Cramer on CNBC-Mad Money a few weeks ago providing advice on Zoom:
Activate your FREE TRIAL account with a few clicks at www.syntela.com.
Syntela Pricing Model Comparison Example – By the Numbers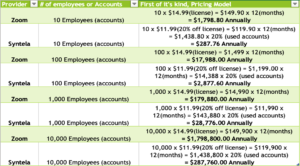 * If analysts are accurate and 80% of fees are passive with Zoom & others that is an 85% savings for any sized environment – 10, 100, 1,000, or 10,000 employee organizations or anything in between!
* For the first time in video conferencing buying – Syntela is delivering a 1 size fits all pricing model that works for all customer types and sizes.
To get started or to have any questions answered reach out to sales@syntela.com.
Syntela Solution – New pricing model promotion!
We will price our services at a 20% discount off competitors like services/license fees.
Provide Syntela with current invoices or agreements so we know what like services we are providing a 20% discount to.
Additionally, considered by many as the "Holy Grail" differentiator, we will only charge you for licenses used in each month, not all active licenses as your organization navigates this new hybrid work environment. This is a first in the video conferencing industry.
No need to manage accounts or expenses, you don't lose a thing, everyone can have an account but won't be charged unless meetings are held on the license. This also serves as a disaster recovery (contingency) plan in case we are forced into another shutdown for free. No need to start from scratch.
No need to pre-pay license fees annually to get the best pricing.
This model aligns perfectly with executive leadership of any organization looking to ensure their capital is deployed in the most efficient way and not paying for unused services.
Are any of these Business Drivers important to you? If so, this pricing model is for you!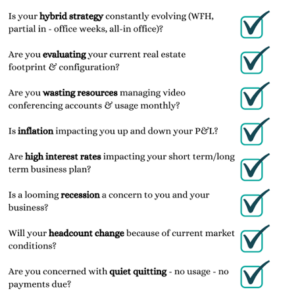 Dedicated local support team with over 30 years experience.
Highly secure platforms are at the core of our belief system – GDPR & HIPAA Compliant, DISA & JITC certification & FIPS 140-2 compliant encryption.
Feature roadmap is developed by our customer wish lists. Do you think you have a better chance to influence our roadmap or Zoom's roadmap?
If you want your brand front & center, no problem, we will white label your instance for you.
Do you have a unique idea or new AR/VR use case you want to bring to market, we will build it with you.
Syntela Buzz works well and integrates with other apps you use every day – Outlook, G Suite, Slack, & more
Our guiding principle – Do the right thing because it is the right thing to do.
We look forward to working with you. Let's get started, reach out to us at sales@syntela.com.